Gestures
Instead of poking at UI components, users interact with content on the screen using gestures. Avoid cluttering the screen with UI components and design your application to support the available gestures. For example, let users zoom into a picture by spreading two fingers instead of tapping a button to zoom in incrementally.
Bezel gestures
BlackBerry 10 smartphones support gestures from the device bezel, which is the frame around the display area of the screen. You don't need to implement these gestures in your app. They are provided automatically.
Wake up the device
Display notifications
Display the
BlackBerry Hub
Minimize applications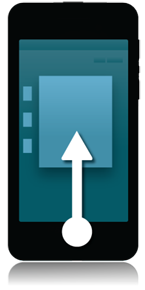 Display a touch screen keyboard
Display an application menu
Content gestures
If they apply to your app, you can use the following gestures to let users manipulate content directly.
Scroll
Scroll between two items
Select one item
Progress through a file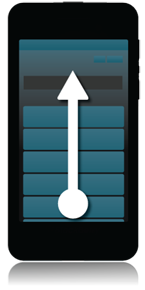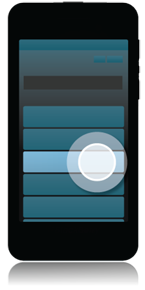 Peek
Open an action menu
Zoom in
Zoom out
Move an item from one place to another
Best practice
If users select a few items at the same time and try to perform an action that can't be performed on all of them (for example, because some are locked), complete the action on the items that can be acted on. Display a toast to indicate why the action wasn't performed on some items.
Touch-sensitive physical keyboard gestures
The BlackBerry Passport smartphone features a touch-sensitive physical keyboard. This keyboard allows users to control the device by swiping their fingers over the surface of the keys.
Fine cursor control and scrolling
Double-tap the keyboard, then swipe your finger to move the cursor. Swipe up and down to scroll through documents.
Open the symbol picker
Swipe down on the keyboard while you are typing to show symbols.
Delete text
Swipe right to left on the keyboard while you are typing to delete a word quickly.
Select a suggested word
Place your finger on the keyboard below the suggested word, and flick it up toward the screen.